Why Fix Your Crawl Space?
If it's worth owning a home that has a wet crawl space, then it's certainly worth fixing it!
A crawl space represents an entire floor of your home -- one that can be used as storage. Eliminating moisture will help you control mold, will eliminate musty odors, and will help you to preserve your home.
Whoever buys your home will expect the crawl space to be dry and clean. If it's not, the house will either need to be discounted by 10-20%, or it may not sell at all!
About Our Waterproofing Network
As with any other major home improvement, it's important to know that your crawl space and/or crawl space contractors are experienced and reputable.
As a certified CleanSpace Dealer, we're active members of a network of more than 300 like-minded professionals operating throughout North America and Europe.
We've been working together since 1987 to bring the industry's best practices and most innovative products to homeowners throughout our service area. Collectively, our products and services have been used to successfully waterproof hundreds of thousands of crawl spaces all over the world.
Being a CleanSpace Dealer means that we've completed a rigorous training series at their International Headquarters and have successfully completed certification tests in the areas of installation, system service, waterproofing system design, and customer service.
A Written, Transferable Warranty
Your system installation includes a written warranty -- one that's measured in decades, not years!
Should you decide to sell your home in the future, you'll be glad to know that your system's warranty is fully transferable to the next owner of the house. This provides an excellent edge for you when deciding on a closing cost!
---
Why Choose Us?
Fast, Professional Installations
A Written, Transferable Warranty
More Than 30 Patented Products
Certified, Insured Installers
Competent, Friendly Service
Free, Written Estimates
... And Much More!
Learn more About Our Company
Fast, Professional Installations
At DriWall Waterproofing & Crawl Spaces, our installation crews specialize in repairing and upgrading below-grade spaces -- it's what we do every day!
We pride ourselves on our fast, professional installations. In most cases, a complete installation of our warrantied systems can be completed in one, perhaps two days.
Special care is taken by our crews to minimize dust and debris during the installation process. Any debris created during the installation is removed by us as we install your system. We want to leave your space looking as clean as we can!
---
Our Professional Services
We offer a variety of home improvements and repairs for individuals who need work done on their below-grade spaces. Whether you're looking for [waterproofing, structural repair, insulation, pest control, remodeling, or a similar service, our certified professionals are here to help you!
Our professional services include all of the following: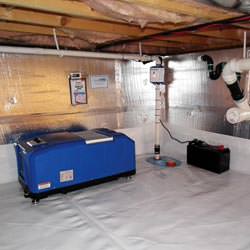 Crawl Space Repair
Whether your crawl space is showing signs of flooding, humidity, moisture, structural damage, or it's just plain cold, we have a full line of products and services that provide permanent solutions for your problem.
Our CleanSpace® Vapor Barrier System includes a 25-year, written, transferable warranty for durability and quality in workmanship. A typical complete installation is begun and done in a single day.
Our innovative SilverGlo™ Insulation is a fully waterproof way to waterproof your crawl space walls while also providing a complete vapor barrier on the surface.
For your floor, our TerraBlock™ system is a durable, waterproof solution that really stands up!